Off-Road Racing
2015 Grand National Cross Country Series Contingency Program
Dunlop wants you to run our rubber, and we're putting our money where our mouth is to get you to do it! Amateur GNCC racers can earn "Dunlop Dollars", which can be redeemed at any Dunlop dealer to be applied toward the purchase of a Dunlop Off Road Tire.
---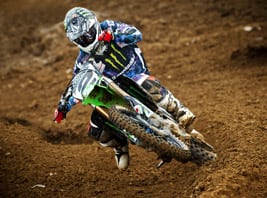 How to participate:
Riders must complete the Contingency Registration Form at each round, available at GNCC rider Registration and bring the completed form to tech inspection. The GNCC Tech Inspector will check that both front and rear tires are Dunlop's and sign the contingency form.
Dunlop decals must be run on motorcycle. Decals can be obtained from GNCC staff.
If you finish in the top three in your class, bring the completed form back to Rider Registration and we will forward it to Dunlop along with the event race results. You can redeem your Dunlop Dollars at the Gear Racewear trailer at the events, or contact Gear Racewear at 724-458-6336.
If you have any questions, please contact Dunlop at (903) 819-0879 or Email Us bfleck@dunloptire.com.
Motorcycle Classes only
A Classes: 1st – $50 / 2nd – $40 / 3rd – $30
B Classes: 1st – $40 / 2nd – $30 / 3rd – $20
C Classes: 1st – $30 / 2nd – $20 / 3rd – $10
Mini Classes: 1st- $30 / 2nd – $20 / 3rd – $10
---
Recent News
Looking for Off-Road Sponsorship? Visit TeamDunlop.com