Promotions
Visit
Dunlop Motorcycle Rebates
for full terms and conditions, or to submit online.
MotoAmerica Rebates:

Moto America Ticket Promotion: Click here.

Pro Dealer Rebates:

Pro Dealer Rebates: Click here.

National Rebate: May 15 – July 4, 2017
May 15th- July 4th, Get up to a $60 Mail-In rebate with the purchase of 2 select tires. Official Rebate Form
2017  Monster Energy AMA Supercross Rebate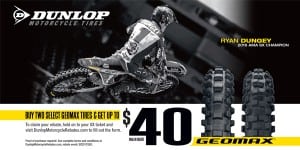 Starting at the first round of 2017 AMA Supercross, you can earn up to $40 in mail-in rebates with a purchase of Geomax tires! Submit your SX ticket, and a completed copy of the official rebate form to qualify. Official Rebate Form
SX Tire Sticker Giveaway
A total of 500 Dunlop tire sticker packs will be given out at each Supercross round, starting with the season opener at Anaheim.
Stickers will be handed out at the Dunlop activation upon the opening of the pits to the general public, while supplies last.
No purchase necessary, just complete a brief survey to receive the stickers. One tire sticker pack per visitor.
OKC Mile Flat Track Rebate
May 1st- May 31st, receive 2 Free Tickets & a $40 Mail-In rebate with the purchase of 2 select tires. Official Rebate Form
Red Mile Flat Track Rebate
May 15th- June 2nd, receive 2 Free Tickets with the purchase of 2 select tires. Official Rebate Form